Party equipment hire
Got your own party theme in mind but don't have enough chairs for all the little party goers? Save your money and storage space by simply hiring them for the day from Organised Chaos. We offer a range of colourful stools and height adjustable tables for hire. Our Prices are below.
UPDATE: Organised Chaos has grown up (..a little) and now offers bigger stools for the bigger kids too 🙂 These fit perfectly with our existing adjustable height trestle tables. The best part of all is that we have kept the prices the same low price as our smaller stools. These stools are available with all our party themes.
Photo gallery









Stool hire
We have a variety of colours available for hire
Blue
Pink
White*
Green
Yellow
*Big stools are currently only available in white.
Prices (Pickup)
The more you hire, the cheaper they are:
hire 1-19 stools, $2.50 each
hire 20 or more stools, only $2 each!
Table hire
Our tables are compact and light, perfect for easy collection in a standard car. The table can be raised to three different heights (perfect for swapping to the big stools or as a stand alone lolly buffet). When unfolded and set up, the table top dimensions are 120cm x 60cm.
Prices (Pickup)
Tables are $10 each to hire
How many tables do I need?
(click below image to enlarge)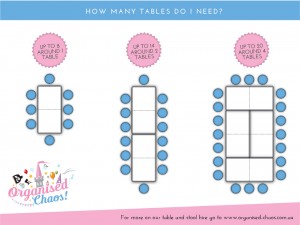 One table can fit 6 comfortably or 8 at a maximum.
Two tables (what we use for our standard theme packages) can fit a maximum of 14 children.
For 20 children, we recommend four tables.